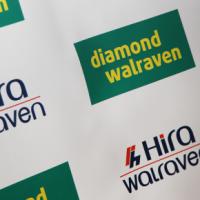 With the foundation of a joint venture with Diamond Pipe Supports, the Walraven Group now spreads its wings in the Middle East and India. In Diamond Pipe Supports, active in the region for many years, Walraven has found a strong business partner. The wide range and the knowhow of Walraven will provide an important complement to Diamond Pipe Supports. The new combination offer both companies plenty of opportunities for further growth.
Established in Mumbai, India in 2002 Diamond Pipe Supports is now one of the most preferred suppliers for consultants, specifiers and contractors across the Middle East and India. The wide product range for the highly specialised sectors of plumbing, HVAC and fire fighting offer users reassurance in relation to relevant international standards. The strict production and post-process inspections ensures products of the highest possible quality.
Mr. Ravi Wadhwani, Business Manager of Hira Industries, said, "This collaboration, between two very powerful businesses, will enable both companies tohare their synergies and build on their core competencies to create a new dimension in installation systems. We are proud and honoured to be involved with such an exciting venture."
Jürgen Goldinger, Global Group Director Sales of the Walraven Group commented, "Over recent years, we've seen our client base grow into Asia, former Eastern Europe and the USA. This joint venture now gives us the opportunity to expand into the Middle East and India, with the experience and presence that Diamond Pipe Supports already commands in this region."
"It's an extremely exhilarating time for both our companies," he added, "as we both bring to the table skills and expertise which complement each other's businesses. With this new alliance, we're anticipating growth in many exciting new areas which will benefit both organisations and lead to substantial future success," he concluded.
The collaborative venture was announced during the Big 5 International Building & Construction Show in Dubai, November 14th. The new company 'Hira Walraven' will be operational as from January 1st, 2015. The products will be branded 'Diamond Walraven'.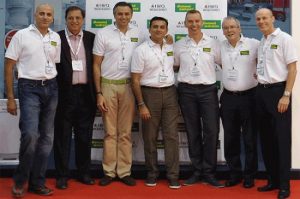 From left to right Mr. Girish Hiranandani – Director at Hira Industries LLC Mr. Ramesh Hiranandani – Owner at Ramesh Hira LLC Mr. Manish Hiranandani – Managing Director at Hira Industries LLC Mr. Ravi Wadhwani – Business Manager HVAC at Hira Industries LLC Mr. Pelle van Walraven – CEO at J. van Walraven Holding B.V. Mr. Jürgen Goldinger – Global Group Director Sales at J. van Walraven Holding B.V. Mr. Joop Standaert – CFO at J. van Walraven Holding B.V.<
For more information, please contact:
J. van Walraven Holding B.V.
Frank Nijdam
Group Director Marketing
[email protected]
Tel. +31 297 23 30 00