The client were building a 23,000 square metre, state-of-the-art headquarters, manufacturing and R&D facility for a specialist cooling systems manufacturer. They required a design solution for a bespoke outdoor pipe support system. A heavy frame modular support system was perfectly suited to this project.
The problem
A bespoke outdoor support system was required to span two buildings at a high level, carrying a mixture of pipelines and electrical containment. The supports had to allow for vehicle access underneath the structure.
The solution
Walraven's Maxx heavy frame modular support system provided the scale and stability required. The solution was a 4 metre high, 17 metre long bridge.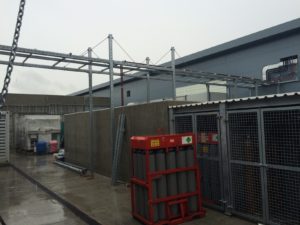 The design allowed for wind loadings and containment weights.
Can we help you?
If you have any bespoke design requirements we have a technical support team who are here to help.
Download our Maxx product brochure
Enquire about Walraven Project Support