Heavy Duty Clamps
Walraven's HD 1501 (lined) and  HD 500 (unlined) clamps are specially designed for fixing high load pipework.
High safe load & fire safety
The Heavy Duty Clamps have been tested to support heavy loads according to RAL-GZ 655 as well as tested for fire safety according to RAL-GZ 656. Therefore these clamps offer high quality and reliability for heavy pipe fixing.
Easy fixing
The Heavy Duty Clamps have no sharp edges or corners. The clamp ends have been well finished and contribute to an uncomplicated assembly. The locking nut is captive, hidden in a plastic nut holder, and the screws are secured with anti-loss washers. No more time wasted with incomplete clamps and loose parts!
To place the pipe into the clamp, only one side needs to be unscrewed as this allows for a sufficient opening in which to place the pipe. The pipe can be secured very quickly!
Optimal surface protection
The Walraven Heavy Duty (HD) clamps are part of the Walraven BIS UltraProtect® 1000 range. This means they are suitable for both indoor and outdoor applications and will withstand at least a 1,000 hour salt spray test.
Features & Benefits
Robust design for heavy loads
Lined HD 1501 is sound insulating according to DIN 4109
Easy to install
Indoor and outdoor use
Back to heavy fixing solutions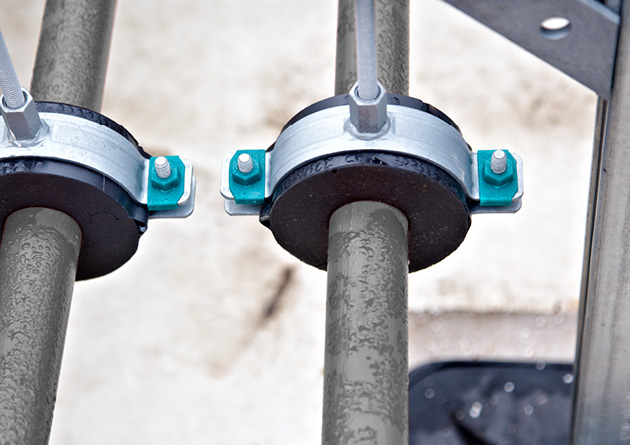 Heavy Duty Clamp selection: