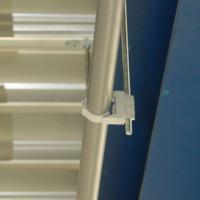 Handy to use, easy to adjust and suitable for all sizes of BIS starQuick® Clamps. That's the BIS starQuick® Threaded Rod Adaptor. Secure in locations where all threaded rods are fitted. This product allows you to make substantial time savings.
You simply clip the BIS starQuick® Threaded Rod Adaptor onto a threaded rod. It is ideal for renovation work in areas containing threaded rods. You can attach a BIS starQuick® Clamp after fitting the adaptor. If necessary, the clip and adaptor can be turned to the correct position.
Practical experience
The BIS starQuick® Threaded Rod Adaptor has recently been used in a project by the Unica Installatiegroep when installing air conditioning. They were the first to work with the new Walraven product. "The threaded rod adaptors are quick to fit and easy to adjust. This was really handy when setting the angle of the drain from the aircon," says Senior Fitter Jan Slomp from Unica. Unica has 75 years of experience in the installation sector and is a national system integrator. Unica is also one of the five largest installation companies in The Netherlands.