What are concrete screws?
Concrete screws are generally used for securing medium-high load applications into concrete, solid brick, hollow brick or stone surfaces. Sometimes they are referred to as concrete anchors, concrete bolts or concrete screw anchors.
There are designed to provide a strong and secure hold, and to be quickly and efficiently installed, even into tough substrates. They can also be fixed close to the edge of the concrete, without risk of deformation.
Concrete screw anchors are available in different styles for use in different applications.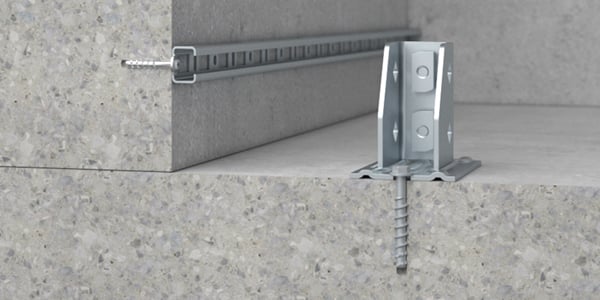 How do concrete screws work?
Concrete screws are held in place by mechanical interlock. As they are screwed into pre-drilled holes, the saw-tooth threads cut into the concrete and form the mechanical interlock between the screw and the base material. Once installed, they can be adjusted if required, but only in accordance with the installation instructions in the ETA.
When should you use concrete screw anchors?
Concrete bolts or anchors are suitable for all building services applications, for example, for fixing pipe support bracketry, or installing fixings for plant and machinery.
Most concrete screw anchors are suitable for use in cracked and non-cracked concrete, and in certain cases for dynamic loading such as seismic, fatigue and shock, making them very versatile. Many also have a fire rating which gives added safety and versatility.
Cracked and non-cracked concrete – what is the difference?
A common question asked is how to choose the right anchor for a specific category of concrete. Concrete is commonly distinguished as either 'cracked' or 'non-cracked' concrete.
Non-cracked concrete – Concrete zones affected by compressive load, e.g. walls or columns, are generally considered as non-cracked. This means the probability that cracks will form in the concrete after installation are generally considered to be low.
Cracked concrete –  Zones affected by tensile load, such as lower member parts of ceilings, are considered to be cracked. This means that over time, cracks may develop through the concrete. Cracks can develop even in reinforced concrete zones affected by tensile loads. Although concrete cracks have widths of around 0.3mm and may be invisible to the human eye, they can have a significant effect on the loading capacity of an anchor. With this in mind, when anchoring into cracked concrete, only anchors that have been tested and approved for use in cracked concrete should be used.
Example of cracked concrete

In cases where it is difficult or impossible to confirm that the concrete is non-cracked and will remain non-cracked throughout the service life of an anchor, the rule of thumb is to consider the concrete as cracked.
Types of concrete screw
There are several types of concrete screw anchors, designed for use in different types of applications. Walraven offers the four main types shown below.

Hex Head (W-LX-H)
A concrete screw with hex head is a heavy-duty self-tapping screw with a washer. It can cut through concrete, solid brick, hollow brick and stone. The hex head allows firmer tightening than some other options. For solid through-fixing of rails, wall plates and more.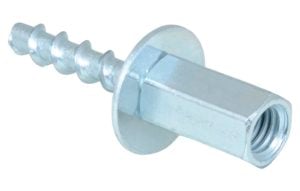 Threaded Rod Hanger/Internally Threaded (W-LX-N)
A concrete screw anchor suitable for hanging threaded rods from ceiling installations. With a female M8/M10 internal thread and a hexagon drive. For easy fixing of pipe routes, channel fixing, ventilation ducts and more. These self-tapping rod hangers offer a fast alternative to traditional drop-in anchors and are installed in less than half the time.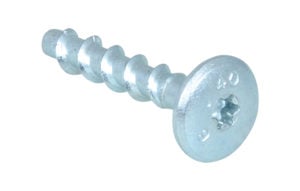 Pan Head (W-LX-P/PX)
Flathead anchors or pan head anchors are more versatile in application but commonly have lower strength than the hex head alternative due to the lack of head tightening. However, with the flatter head, you receive a flush fix against the surface of the attached material ideal for fastening channel directly to the ceiling for the installation of pipes or ventilation ducts.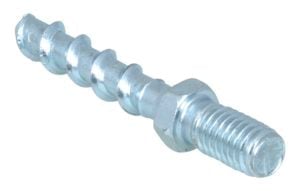 Threaded Stud Anchor (W-LX-M)
An anchor with a male connection threaded screw suitable for fixing pipes, brackets and channels with maximum efficiency. Externally threaded head allows direct attachment of pipe clamps. Simplifies overhead installation.
Should I use an ETA approved anchor?
Anchors are often used in safety-critical applications. But what is a safety-critical application, and how important is it to use ETA approved anchors?
The European Technical Approval guidelines define safety-critical applications as being:
"Applications in which the failure of an anchor could result in collapse or partial collapse of a structure, cause risk to human life, or lead to a significant economic loss"
Over the past decade or so there have been a number of major installation failures resulting in serious injury and death. The most common reasons these occur are:
Incorrect anchor selection
Incorrect installation
Specification changes
In light of these failures, the CFA introduced a set of guidelines, BS8539:2012 which is a standard Code of Practice for anchors. The overriding message from BS8539:2012 is that ETA approved anchors should be used wherever possible.

Guide to selecting and installing concrete screws
Choosing the correct concrete screw anchor for your project is really important for a number of reasons. Concrete is a tough material that requires the correct drill and anchor to ensure a good bond.
Selecting the right, high quality concrete anchor will offer project efficiencies and ensures you avoid issues during or post-installation such as damage or replacement screws which can arise from using the wrong or poor quality product.
But which is the best anchor to choose and what should you consider when choosing a concrete screw for your project? This guide will help you understand how to select the right concrete screw anchor for your needs.
What is Walraven's concrete anchor product offering?
Walraven's concrete anchor range includes concrete screws, throughbolts, drop-in anchors, highload anchors, chemical anchors and more. Alongside our product range we offer technical support and advice to help you at every step of the way if you need it.
In summary Walraven offers:
A range of high load, high performance, mechanical and chemical anchors
ETA approved range offering peace of mind and compliance with BS8539:2012
Fire-rated options
Seismic options
How to install videos and documented installation guidance
Technical advice available over the phone at any time
Free anchor design software download to help you carry out anchor calculations specific to your installation and select the right anchor for your need
Discover all our range 
How to install concrete screw anchors
As mentioned in the previous section, incorrect installation of anchors, including concrete screw anchors, is one of the main causes of installation failure, which can lead to serious problems and even loss of life. Therefore it is imperative that manufacturer installation guidelines are followed when installing concrete bolts.
What's the main step that gets overlooked?
Frequently we find that the cleaning of the drill hole gets overlooked. It is tempting to skip this part of the process but it is important to clean the hole to be compliant with installation instructions as laid out in the ETA. If you don't clear the drill debris from within the hole before installing the concrete screw it can create a situation where the screw is unable to be fully inserted into the hole during the setting process. Subsequently, if too much torque is applied, the concrete screw may break or shear off.