Walraven is a founding member of 'Gütegemeinschaft Röhrbefestigung' (Safe Connection). As part of this association, along with other producers of pipe clamps fixing systems, we have set up unequivocal product quality guidelines. The 'Gütegemeinschaft Rohrbefestigung' has become acknowledged in 2003 by RAL, the German institute for quality guarantees.  Over time, RAL has become established as the recognised body charged with the certification of products and services.
Certification is recognised by means of a quality mark; this is highly regarded by consumers and the wider economy alike, because products and services awarded the quality mark guarantee a high standard of tested quality.
Here is a very short video explaining what RAL quality marks are:
Find out everything you need to know about Walraven and our commitment to RAL approvals by clicking the link below which takes you to the 'Safe-Connection' website.
Walraven & RAL – find out more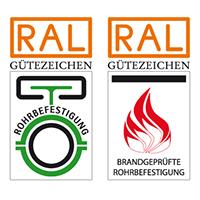 Benefits of RAL approved products
The RAL quality mark stands for neutrally tested and proven quality in construction. The technical data of products with the quality mark is determined according to a uniform standard. RAL approved products are easily comparable across the industry.
Furthermore, the quality marks stand for proven quality, reliability and safety on construction sites and, as a consequence, protect planners, tradesmen and women, architects, home builders and trade outlets.
Benefits for the trades
Benefits for planners and architects

Easy to select the right fixing
Reliable load capacity of fixings
Impartial tests by accredited test institutes assure a high level of reliability
Practical, comparable manufacturer documentation
The certainty that installing quality products offers
Quality assured products support superior implementation

Reliable technical guidelines
Labelled products/packaging simplify installation checks
Technical standard of products easily verified
Manufacturer's product details tested
Certainty when planning
Invitation to tender quality products
RAL quality mark for pipe clamps and supports
The 'pipe support' quality mark (RAL-GZ-655) identifies the technical performance and quality of pipe clamps, consoles, assembly rails, and accessories that have been demonstrated in comprehensive independent testing.
More about RAL-GZ 655
RAL quality mark for fire tested supports
The 'fire-tested pipe support' quality mark (RAL-GZ-656) is important because although steel does not burn, it can fail in the event of fire. This RAL mark is awarded to products that completely satisfy the high requirements expected of fire-tested pipe clamps and supports.
More about RAL-GZ 656
Which of Walraven's products are RAL approved?
Our main range of pipe clamps and rail systems are RAL approved. The full details can be found in our RAL Product Data Sheet.
Walraven's RAL approved product list
The RAL mark is synonymous with quality and trust for pipe fixings. To find out more you can visit: http://www.guetegemeinschaft-rohrbefestigung.de/en/index.php Or email: [email protected]