Testing fire stopping systems beyond standard requirements
The integrity of fire stopping systems is a very real issue at a moment when there are stories in the news of deadly fires in high-rise buildings. This is exactly why, at Walraven, testing our fire stopping systems to the highest standards possible has always been at the top of our priority list.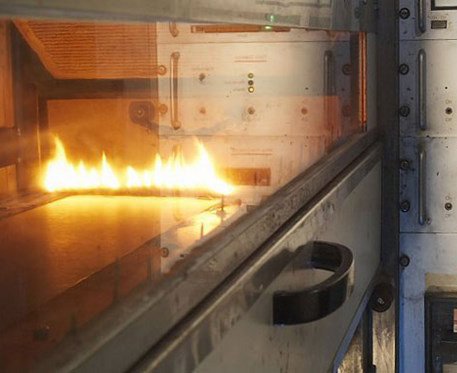 We work with some of the biggest testing laboratories such as Chiltern (UK) Exova (UK), and Efectis (NL). At these specific laboratories, not only do they test fire stopping systems to the highest standards, but they also understand about real issues that can impact what happens in buildings such as pipe movement and smoke sealing. Although these are not requirements for the testing of these products, we feel that this is a crucial part of the overall effectiveness of a firestop. By using these laboratories we are able to get professional opinions on the performance of our product in those non-tested, yet realistic, situations.
Testing in-house for true scenarios
In addition to using third-party organisations, Walraven also has its own test facility in Holland allowing us to carry out continuous testing and bespoke testing scenarios. This ensures that our products will work in a whole range of scenarios that may not be officially tested for. We believe in testing products for real-life situations, not to simply meet test conditions.
Our contribution to the fire stopping community
To keep at the forefront of activity around fire stopping and passive fire protection, we are actively involved in national associations in most countries where we are present. In the UK we are members of IFSA & ASFP. Currently, we are driving for legislative changes to incorporate increased testing requirements for fire stops. This includes issues such as pipe movements, soundproofing, and smoke penetration.
Ahead of the competition with our certifications
All of our firestops do, of course, have industry standard certifications. In addition to this, our Pacifyre® MKII Fire Sleeve has been laboratory tested and certified to prevent noise conduction. This is a feature that other fire sleeves do not have. We were prompted to incorporate noise prevention into our fire sleeve when we were approached by The Royal Opera House. They wanted us to provide them with a fire stopping system that also offered sound insulation.  We developed our fire sleeve further and tested it through the Acoustical Investigation & Research Organisation (AIRO) laboratory to achieve the additional sound insulation feature to our product.  
To see how effective the noise insulation actually is, watch the short video below.
In addition to our bespoke developments, we have an ETA certificate (European Technical Assessment) for our Pacifyre® MKII Fire Sleeve; something many competitor products do not have. An ETA provides a confirmed scope of performance for the product in multiple scenarios and for a whole range of pipe types. Contractors can be reassured that the product will perform within the scope specified in the ETA.
Test reports and data sheets can be found here.
Other resources from Walraven
Learn more about fire stopping systems with our complete guide, it includes:
An overview of what fire stopping is

Fire stopping products that Walraven provide

Brief, case studies that have used Walraven firestops

Resources to help you when fire stopping

Are you looking for a fire stopping system?
If you want to learn more about Walraven's fire stopping solutions then you can, by downloading our fire stopping brochure. It includes:
Details of the firestops included in the Walraven fire protection system.
Benefits of installing Walraven firestops
Installation instructions for the products
Application possibilities of the firestops
---
Do you have a question about passive fire protection or fire stopping?
The Walraven team have over 30 years' experience in fire stopping. They have worked on huge fire stopping projects such as The Shard and are experts in both new build projects and remediation. They are willing to discuss your fire stopping projects and assist you with problem-solving, technical design and more.