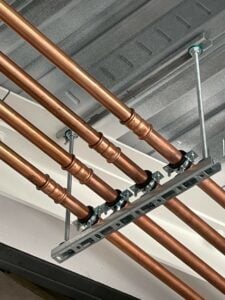 Chris Illingworth from WTH Heating and Plumbing has started using RapidRail® for his large domestic and light commercial installations, and recently found it particularly useful on a job for fabricating ceiling hanging trapeze frames.
This installation was a large, new, ultra-modern house which will be heated by a ground source heat pump. Chris and his team were tasked with fitting out the plant room and installing all the pipework throughout the property for the heating system.
The Problem – Installing at height
This installation required ceiling hanging pipe supports throughout the property. Usually Chris and his team would have used standard 41×41 channel to create trapeze frame supports for suspended pipework. However, 41×41 strut is heavy, weighing around 2.5kg per metre and comes with basic fixings for attaching pipe clips. When installing overhead this can become challenging due to the weight and the fiddly nature of using basic fixings. Chris decided to try RapidRail® which weighs less than 1kg per metre, to see if using a lighter channel with fully pre-assembled fixings would make the job easier.
The Solution – RapidRail® System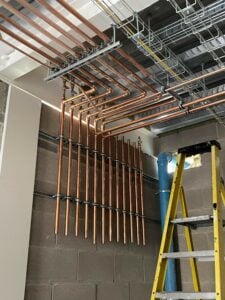 RapidRail® 30×20 was used on this job for both the wall-mounted pipework and for fabricating trapeze frames to carry the pipes through the ceiling space. The trapeze frames were constructed using two RapidRail® pieces with RapidRail® slide nuts to drop the threaded rod down and connect the two pieces of rail. Walraven's Hammerfix nuts with pre-cut stud were used to attach the pipe clips, quick and simple!
Chris commented; "Part of the reason for using RapidRail® is the fact it's light and easy to use at height on the scaffolds whilst installing the framework. This, alongside the really easy slide nut and Hammerfix connectors that just twist into the rail, really helped bring the installation time down from what we estimated it would be using the heavier 41×41 channel product. The system really exceeded our expectations and made the install at height much easier."
Where to buy
RapidRail® is in stock at Williams Plumbing Supplies, JPL Direct and Trentside Fixings online shops. Contact your Business Development Manager for more purchasing options.
Find out more about RapidRail and request a sample